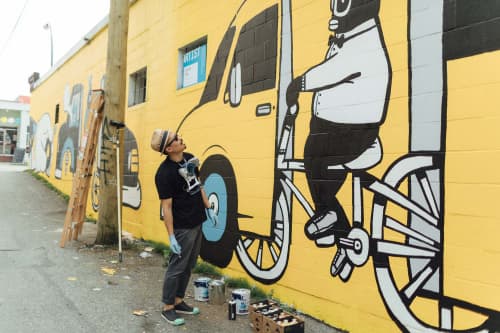 Image credit: Jeremy Jude Lee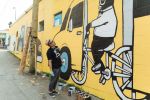 +2

'Ride Wild' is our piece done for the 2nd Vancouver Mural Festival (Aug 3 - 11th). It's measured 98'-7" wide x 15'-8" tall by the side of Swiss Bakery (143 East 3rd). This mural took us 7 days (some half and some full) to finish. Our mural was generously sponsored by Native Shoes.
The concept behind this mural is based on a fun portrayal of the modern commuter's psyche in Vancouver. We are often faced with the dilemma of whether we should drive or cycle to our destination, but deep down we are often caught longing to be riding freely on our bicycles. This piece will hopefully help remind us to break out of our reliance on cars and ride our bicycles as free as wild rabbits.
Have more questions about this item?