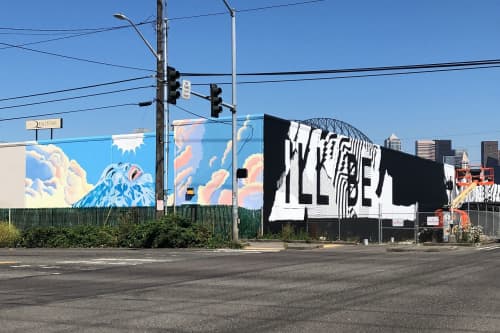 Image credit: Anna Kooris and Celeste Byers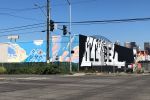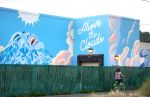 +3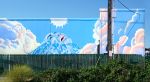 Above the Clouds - Street Murals
Creator not accepting inquiries
Mural I painted for the SODO Track mural project that spans for 2 miles along the Link lite rail in Seattle, Washington. I painted a view of the local mountain, Mount Rainier, sticking her head up above the clouds. I came up with the idea for this mural while I was in Puebla, Mexico where there is a legend of a woman named Iztaccíhuatl who is the mountain. Seattle is known for its cloudy weather and my mural is meant to be an uplifting metaphorical and literal reminder that there is always sun above the clouds.
Over the past 3 years, 60 artists have painted over 32 massive walls along the railway and it is an amazing outdoor gallery with artwork by artists from locally and around the world. It was so amazing to meet new talented friends from Singapore, Romania, Australia, Brazil, Italy, and the US. It's definitely worth checking out if you're in the city! My mural can be found at 1760 4th Ave S, Seattle, WA 98134 and the rest of the murals can be found on 5th Ave South between Royal Brougham Way and Spokane Street.
Black and white mural to the right of mine by Georgia Hill.
Project produced by 4Culture, curated by Gage Hamilton, and led by Tamar Benzikry.
Photos by Anna Kooris and myself.