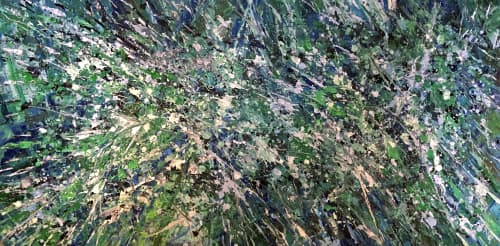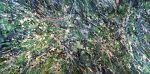 Splatter Abstraction XII - Paintings
Acrylic on canvas, 48"x24".
This piece is part of my Splatter Abstraction Series, described further below.
Splatter Abstraction Series:
At times, many things can seem out of our control or least of uncertain outcome. This is something that I have struggled with over the years, as I generally have felt that with hard work and perseverance, I can achieve whatever goals I put forward. Sometimes, though, this is not effective, and you have to let go and see how things evolve. This is the basis for my "Splatter Abstraction" series. I distinctly remember the night I started working on it, when through a fortuitous accident, I realized how striking the gestural quality of the thrown paint was, and how beautiful the mixing of the bold colors could be in ways that were from a combination of calculated placement and the superimposed randomness of the individual movements. I hope you can also appreciate the spontaneity and joy in color and texture that I found in creating this series.
Item
Splatter Abstraction XII
Have more questions about this item?