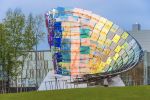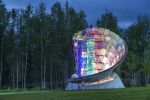 +4

Featured In Scientific Crime Detection Laboratory - Alaska Department of Public Safety, Anchorage, AK
Light plays a pivotal role in forensic research as well. Often clues come alive by using various light sources and filters that block and reveal certain rays. In short, it is by using light that we can see what is otherwise hidden to our bare eyes. Departing from this point, the concept for the Alaska Crime Lab Project started with a reflection on the idea of forensics, the type of processes that are performed at the lab, and the meaning of a site-specific artwork for this location.
As an attempt to capture some of the qualities of the light in this particular location, Fragmenta utilizes filters that allow the artwork to change its appearance and colors based on the position of the sun, artificial lighting and the viewing angle of its audience. As part of its concept, Fragmenta will change its appearance as the conditions change from long days to long nights, from green of the summer to white cover of the winter in Alaska.
The interplay between the transparent glass panels and stainless steel panels that are impenetrable by light rays depicts the gathering, clarifying and organizing of information. In the square shape of a computer pixel, the scattered tiles of the artwork are dynamic and turbulent but also clear and meditative.
Have more questions about this item?