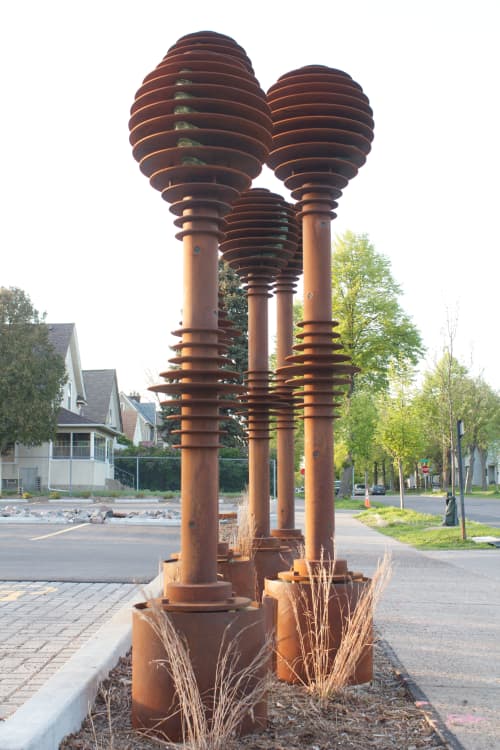 Green Light Project - Sculptures
Featured In Edison High School, Minneapolis, MN
Green Light Project
For the City of Minneapolis
Edison High School
Minneapolis, MN
November 2013
Cor-ten steel, sculpted jade glass, fiber optic light
10' x 12' x 2'
The NE Green Light art installation is the Center for Energy and Environment's 2013 Art as Energy project. The sculpture installation is located at the SW corner of the Edison High School parking lot at the intersections of 22nd Avenue NE and Quincy Street NE. It consists of a core of 6 artworks ranging in height from 9 to 12 feet, created with Cor-ten steel, sculpted green jade float glass, fiber-optic lighting and programmable, color-changing LED lamps. Initially the sculpture group is orange, representing the current baseline of gas and electricity consumption in the surrounding community. As energy conservation in the surrounding Holland neighborhood improves due to CEE weatherization efforts the light will change color, with the ultimate goal of saving energy equivalent to the amount needed to power Edison High School. When 25% of the goal is achieved, the light will shift from orange to red; at the 50% point, the light will move from red to purple; at the 75% point, the lights will change from purple to blue. At the 100% point will alternate between blue and green. This dynamic process serves as an outward and visible symbol of responsible resource management and energy conservation. It will be accompanied by a partnership between CEE and the Holland Neighborhood Improvement Association (HNIA) to promote energy audits and energy conservation improvements in the Holland neighborhood. This partnership will chart a unique pathway of collaboration that can serve as a model for other neighborhoods and organizations.
For more information visit: www.negreenlightproject.com
Have more questions about this item?