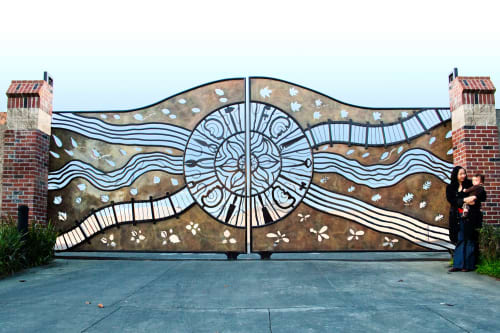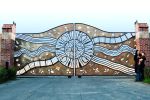 Mandala Gates - Sculptures
Featured In Berkeley Corporation Yard, Berkeley, CA
The entry gates for the Berkeley Corporation Yard contain many references to the rich and diverse history of Berkeley, with specific references to the long-ago displaced local railroad, agriculture, native plants and ethnic diversity and to the corporation yard as the crucial entity that keeps the city functioning, clean and livable. They also serve as the gateway to the landmark Ratcliff Buildings, the original structures on the site, built in 1916.
Mandala Gates is an excellent example of public art being a successful solution to an otherwise very challenging problem. After the two sets of gates were installed, some long-standing complaints by neighbors about the location of the corporation yard were resolved.
Returns accepted within 14 days
Trade Members enjoy Free returns within 30 days regardless of the Creator's return policy.
Learn more
Have more questions about this item?