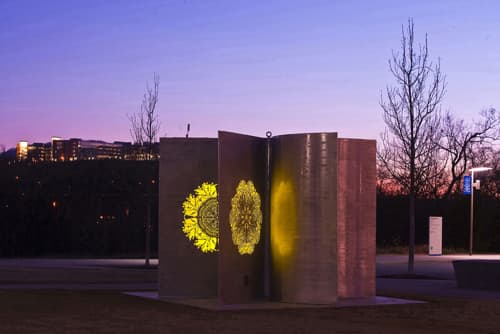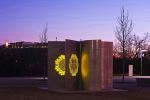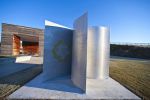 Featured In Xavier University of Louisiana, New Orleans, LA
Solar Powered - Choreographed LED Light Sculpture - Laser Cut, Powder Coated Aluminum - 12'D x 8'H
Overview
The sculpture integrates Xavier University's the message about opportunities of learning through education Based on the design of a seed pod that can be dormant for generations but given the right conditions can come alive bloom and flourish… The sculpture imitates design principles found in nature to create a sustainable work of art. The solar-powered sculpture resides near the STEM Center in the middle of campus. It is a vibrant symbol that artistically demonstrates how solar power works by illuminating laser-cut sheets of metal designed to replicate a seed pod coming out of a dormant state to form new life.
Goals
Sculpture interwoven into the public realm can serve as a social catalyst and a way to reveal complex ideas and issues in a engaging way. Deedee Morrison is a nationally known sculptor at the forefront of designing LED sculptures to communicate public priorities and vision. Morrison's work combines traditional sculpture construction methods with cutting-edge digital design and fabrication technology. These compelling lighting sculptures are based on design principles that work on several levels: functionality and sustainability. Morrison attempts to imitate the design principles that exist in the world to create sustainable solutions with art, by mimicking the strategies found in nature. "Solar sculptures in the right environment are extremely effective ways to demonstrate how solar energy works and can become an icon of sustainability for a city." States the artist, Deedee Morrison.
Process
As a sculptor and installation artist, the sculptor's work has been heavily influenced by an interest in biological forms and light. Coupled with an interest in nature is a fascination for technical and scientific advances. As a result, a unique style has evolved that reflects her understanding of the natural world by using industrial materials, computer numeric control cutting methods (CNC), and organically inspired designs to create LED and solar powered light sculptures. By combining green consciousness with forward thinking and sustainable designs, each piece of artwork fabricated is a light sculpture that pays tribute to nature?s beautiful efficiency. The Seed-Pod design was inspired by studying organic forms and the geometric principles that determine their patterns and structures. Morrison created the 8-by-12 work of art with inspiration from organic forms, particularly the drawings of Ernst Haeckel, who was also an artist, biologist, naturalist, philosopher, physician and professor who discovered, described, named and illustrated thousands of new species.
Have more questions about this item?