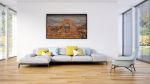 +5
Delicate Arch - Sculptures
Delicate Arch is the famous arch in Arches National Park. I have always been drone to the dessert landscapes in the United states. So I decided to create this landscape in my own artistic way by using geometric shapes. By creating multiple layers it gives the piece more depth and life. The wood used in this piece consist of a mix of reclaimed wood I have gathered over the years from old barns, houses and fences taken down in my area. All the patina on the wood used for this piece is due to the aging and weathering process over many years. I would like to stress that there is no stain or paint used on this piece, only what mother nature created. That is what makes the piece extra special.
This piece can only be appreciated in person when the light changes in the room and you move side to side the piece comes to life.
Have more questions about this item?