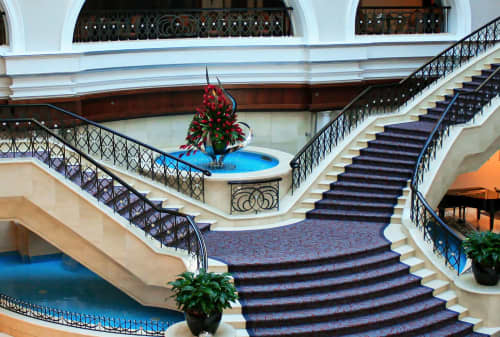 +8

ORGANIC EMBRACE SCULPTURE - Public Sculptures
Featured In Mövenpick Hotel & Apartments Bur Dubai, دبي, United Arab Emirates
Material: #316 Marine grade stainless steel
Finish: Mixture of polished + satin finish
Dimension: H-275cm x Dia-175cm
Name: ORGANIC EMBRACE:
To energise the soul
To harmonise and flow
To ascend in nature's arms
'Organic Embrace' was a commissioned central feature for Mövenpick Hotel and Apartments, a 5-star complex in Oud Metha, the central business district of Bur Dubai. Motivated by a desire to create a form that would contribute to feelings of peace and harmony within its environment, Stuart turned to the natural world for inspiration. Exhibiting balance and harmony of line from whichever direction it is viewed from, 'Organic Embrace' works to uplift and energise the human soul
Item
ORGANIC EMBRACE SCULPTURE
Have more questions about this item?