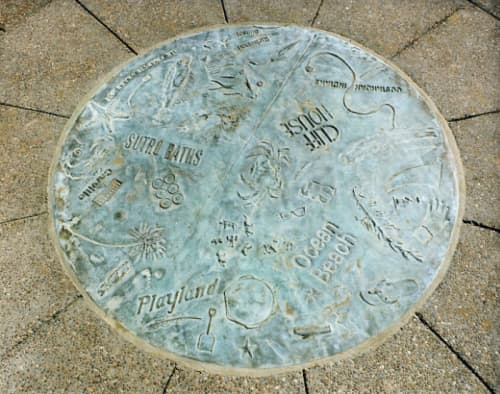 ""Ocean Beach Fossil"" - Public Sculptures
Featured In Pacheco Street, San Francisco, CA
Mary Chomenko Hinckley's "Ocean Beach Fossil" (1988) is a cast 7-foot diameter bronze medallion inset into a sidewalk on Pacheco Street and the Great Highway in South San Francisco. The bas-relief sculpture depicts the history and "contemporary archaeology" of San Francisco's Ocean Beach. In it are embedded words and objects associated with the environs and its history with words such as Sir Francis Drake, Cliff House, Sutro Baths, Playland, Carville, Costanoan Indians and iconic beach artifacts such as a lost flip-flop, sunglasses, a crab and sea kelp. Commissioned by the City and County of San Francisco, 1992.
Item
""Ocean Beach Fossil""
Have more questions about this item?