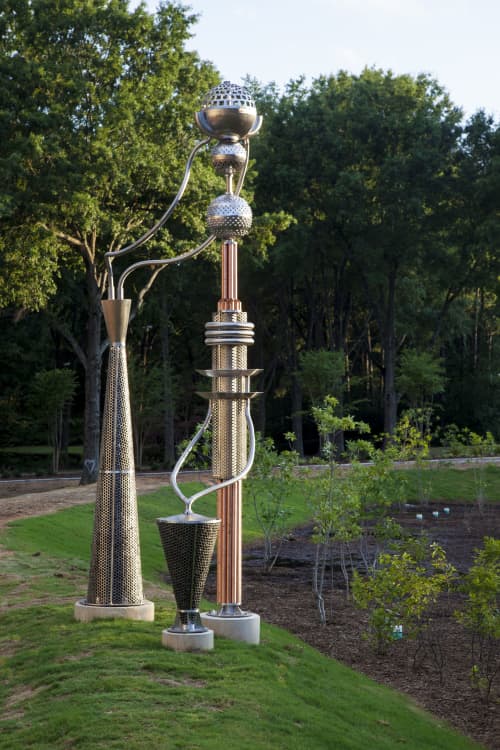 Image credit: Photograph by Theresa Moore


+3

Percolare - Public Sculptures
Featured In Raleigh, NC
Percolare, 2017
Commissioned by the City of Raleigh Arts Commission for the Sandy Forks Road Widening Project.
Materials: Copper, Stainless Steel, Polished River Pebbles
Dimensions: Footprint: 130" X 78"
Element A (Tall Cone) 141" X 14" X 32"
Element B (Center Column) 224" X 24" X 30"
Element C (Short Cone) 52" X 15" X 26"
Budget: $71,250.00
Sited beside a bio-retention pond, Percolare is designed as a response to the environmental rehabilitation integrated into this (LEED rated) Greenroads project, highlighting the passage of rain and storm water easily visible to pedestrians and automotive traffic. Composed of shapes and surfaces reminiscent of strainers and sieves, the piece mimics the distillation process occurring in the bio-retention basin. Inspired by the natural filtration process occurring in the basin, the three elements of the sculpture collect filter and release water during wet weather. During dry periods without water flow, the shapes and surfaces may remind one of distillation vessels, strainers, and sieves. Elements of the sculpture are both permeable and solid providing the means to collect and release water into the surrounding region.
Have more questions about this item?