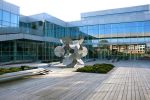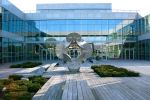 +9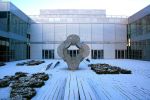 Nous & Logos II - Public Sculptures
Featured In Jåttå Upper Secondary School, Stavanger, Norway
The sculpture consists of 20 water-cut aluminum sheets of 15mm thickness. The plates have a diameter of 1200 mm. Ryfylke Aluminum Technology has welded the plates in their workshop in Stavanger.
The motifs of the plates are handwritten text fragments from some of the great thinkers of world history, such as: Charles Darwin, Albert Einstein, Leonardo da Vinci, Ludvig Van Beethoven, Karl Marx, Mahatma Gandhi, Sigmund Freud et al.
Cut-outs from the sculpture are mounted inside the school building to connect the rooms and what goes on inside the school to the sculptures outside.
Have more questions about this item?