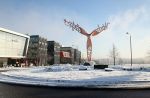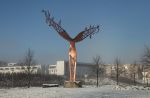 +17

After the propeller's era. - Public Sculptures
Featured In Fornebu, Norway
Art project in roundabout, Fornebu Oslo, Norway 2017
Materials: copper on steel, granite.
The project consists of a large three-winged propeller sculpture standing on one wing and attached to a large coarse-grained granite stone from the Iddefjord.
The two extended wings of the propeller sculpture are perforated in a pattern that reproduces structures in nearby architecture and is reminiscent of insect wings. The propeller has a body that is fragmented, it has a bulky body in the center and the perforated parts of the propeller wings suggest an inner supporting structure. This structure gives the impression of dissolving into figures of humans and animals in a coexistence. I think this symbolizes this transition from a historic place for air traffic to a living and working area for people and animals.
I have worked on a number of motifs with different animals and human shapes. The figures appear as silhouettes and are taken from various photographs that I have taken myself and some that I have collected from others. The photographs are digitally transmitted and have a high degree of detail.
I imagine that the motifs signal human activity in interaction with nature and that it expresses, among other things, a desire to fly.
The sculpture is made of acid-resistant and stainless steel that is clad with copper. Over time, a natural patination of the sculpture will occur, it will undergo a change in surface color from copper to green-turquoise after about 20 years.
Have more questions about this item?