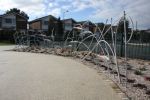 +2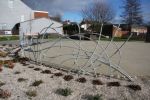 Cascade - Public Sculptures
Featured In Rainhill, United Kingdom
Adrian was selected for this commission by Rainhill Environmental Community Organisation on the strength of his previous work with local community groups and schools throughout the neighbouring borough of Knowsley. Over the previous ten years he had also been building a national reputation for unique public artworks inspired by nature, so when Rainhill ECO were looking for an artist with such interests and experience, Adrian was their first choice.
The group was originally formed when various Rainhill residents got together to transform a nearby patch of wasteland into a community garden. After much hard work clearing the area and improving the ground conditions, they were helped by a local council officer and received a grant from the regional waste authority to enable their ambitious plans to become reality. New trees, shrubs and wildflower areas were planted, garden benches and planters were purchased, a commemorative plaque, mosaic sundial and sculpture were commissioned.
The design of 'Cascade' was a collaborative and experimental journey in which Adrian held a series of drawing and sculpture workshops with the core community group, dozens of local residents and schoolchildren in order to generate and develop ideas for the artwork. Adrian's photographs from the wild flower garden provided the inspiration and his unique approach of teaching people how to 'draw in space' with wire provided the means of expression.
The result was an interactive water sculpture that delights, intrigues and entertains all who visit the garden. It also serves the practical purpose of collecting rainwater and distributing it to the flower beds.
Rainhill ECO group raised further funding to commission Adrian to create a sculptural lectern to display information about the garden. They chose to incorporate poppies in its design to mark the centenary anniversary of the start of the Great War.
The grand opening of Rainhill Eco Garden was a joyous occasion, with children excitedly pouring water on the sculpture and chasing its path as it cascaded down the series of leaf forms towards the gardens.
Dimensions: 1.3 x 7 x 0.3 m (h x w x d)
Materials: Welded, galvanized & treated mild steel
Fabrication: Adrian Moakes
Installation: AM & Rainhill ECO Group volunteers
Management: Rainhill ECO Group
Funding: Merseyside Recycling & Waste Authority
Have more questions about this item?