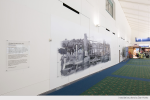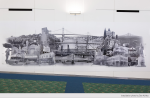 +3

Portland: East Meets West Installation - Photography
Featured In Portland International Airport, Portland, OR
Beth Kerschen was invited to do 30 foot installation at the Portland International Airport. Here is the artist statement:
Beth Kerschen is a multi-disciplinary artist using photomontage and printmaking to reflect a city's culture via the urban landscape. For the past seven years, Portland, Oregon has been her focus. In her installation at PDX, Portland: East Meets West, she has captured Portland as it exists at the present moment: a city bursting with creativity. Portland: East Meets West celebrates the cuisine, music, cycling, artists, technology, cinema, vintage, DIY, alternative movements, outdoors, history, architecture, bridges, transportation, and even rose gardens of our fair city.
By memorializing these everyday scenes, she hopes to inspire others to celebrate our city's present. With enough awareness and appreciation of what makes Portland unique, we can sustain the best of our culture as Portland's landscape rapidly changes into a world-class city.
Have more questions about this item?