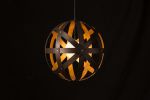 +2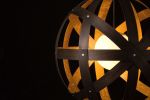 Meridian 24 - Black stained walnut with gold leafed interior - Pendants
Featured In Vancouver, Vancouver, Canada
Custom options available, ask the creator for customization.
Whether hanging individually or in groupings, the Meridian is a pendant light with a strong sculptural presence. Pictured here is the Meridian 24, made from blackened eastern walnut and finished with a gold leaf interior. The Meridian is at home over kitchen tables or islands, dining tables or grouped to cascade down a stairwell or to warmly light a seating area.
The Meridian 24 is a member of the Meridian line of lights that come in diameters of 16", 24", 30", 36" and 42". Contact us to discuss how custom groupings and configurations can be designed to suit your space perfectly.
Have more questions about this item?