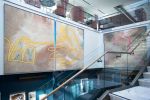 +1

Picked up a Map in Amarillo (Painting)
Featured In Soho House West Hollywood, West Hollywood, CA
Sanded Grout and Airbrush on Canvas in Painted Steel Frame
78.75 x 84.75 Inches, (200.25 x 215.25 CM)
This painting was executed in 2017 and exhibited in a solo presentation titled "MAPS" at Soho House West Hollywood in 2019. Curated by Margot Ross of Show Gallery, Los Angeles, the painting is a work from my ongoing series "GPS Paintings", which represent aerial views of locations that I have traveled through during my geological survey of the Southwest United States.
Materials - Sanded Grout and Airbrush on Canvas in Painted Steel Frame. GPS paintings are an aerial view map of the artists off road travels through the American Southwest. The title of each piece is in relation to either the physical geography, latitude surrounding the location, town or city name, or prominent geological landmark. The artist films his off road adventure via drone, and uses the still images to inspire these cemented grout on canvas paintings. The grout is applied in several thin layers to build up a topographical texture over the entire surface of the painting. The lines are embossed reliefs applied by hand on top of the already textured canvas, and finally the lines are carefully painted along the edges to mirror a glowing effect found in GPS applications and navigation systems.
Shipping: UPS 5-14 days
Free Shipping in the US, ask the creator about international shipping.
Estimated Arrival: November 1, 2021
Have more questions about this item?