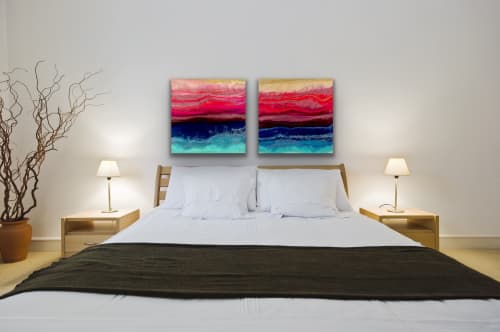 Image credit: John Philpotts: Off The Walls Studio Gallery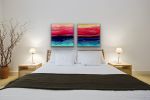 +1
Treasures of Bali, 1 & 2 - Paintings
Featured In Salon Platinum - Aliso Viejo, Orange County, CA, Aliso Viejo, CA
Other People Want This. 1 People Have This In Their Carts Right Now.
Original Art
Resin on wood panel
40x40x1.5 (each panel)
Sold as a diptych
This vibrant, jewel-toned seascape was inspired by the coral reef located off the coast of Bali. This modern, glossy, resin painting is layered with deep blue, berry, indigo, and gold metallic pigments. A cool-toned color palette was used to create this contemporary diptych. Although Melissa strives for a flawless resin finish, natural imperfections can occur and are considered part of the art process. Signed on the back
Ships in a box
Ready to hang
All sales final
Shipping: FedEx 5-7 days
$350 Shipping in the US, ask the creator about international shipping.
Estimated Arrival: October 25, 2021
Have more questions about this item?