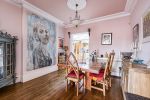 +1

"Once Upon A Time' - Paintings
Custom options available, ask the creator for customization.
'Once Upon a Time' Oil and mixed media on canvas; 249 x 155 cm / 98" x 61." This painting is one of several in a series I made of multi-layered giant head paintings. This one was built up out of layers of Acrylic pastes and impregnated with a variety of textures. In some areas, I printed over lace and floral patterns from fabric and embossed wallpaper. Thin layers of oil paint and glaze in soft earth colors and blue were applied to the surface and sanded back - 'excavated' to expose texture and colors in the underlying layers. I wanted to create a sense of history and of time through the layering - like a worn fresco
Have more questions about this item?