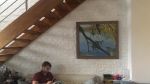 Inquire about Comissioning a Custom piece
This piece is a commission based off of a smaller landscape painting that the client saw in my studio. I made this painting according to the size requested for her home.
Gliwice Pond, 2020, oil on canvas, 31.5 x 35.5 in (80 x 90 cm)
Have more questions about this item?