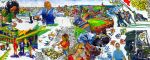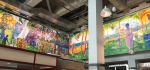 Celebrating the Working Men and Women of Puerto Rico - Murals
Featured In El Mercado De Paseo Caribe, San Juan, Puerto Rico
Artist and muralist Tom Christopher worked with art students from Escuela de Artes Plásticas y Diseño to create more than 4,000 square feet of murals in Puerto Rico. Their ideas follow the tradition of Thomas Hart Benton, the WPA artists and Mexican muralists like Diego Rivera who portrayed the proletarian struggle and pride of working men and women. Tom and the students developed and painted the murals in a working studio on Bahia Plaza in San Juan.
Item
Celebrating the Working Men and Women of Puerto Rico
Have more questions about this item?