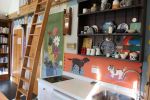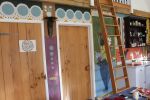 +4

The Charleston Studio Wall - Murals
Price from $800 to $1,500$800-$1,500
This was so much fun to do, this is a wall within a private ceramic studio. The owner loves the aesthetic of the Bloomsbury Group, and in particular "Charleston Farmhouse", where many of the group lived and painted on every surface of the house. Walls, tables, ceramics, fireplaces, you name it. I tried to recreate some of their motifs and free styling here. The owners dogs are included!
For bespoke mural art, the price varies according to the complexity of the design, location and the amount of preparatory work required.
Item
The Charleston Studio Wall
As seen in
Private Residence
, Royal Tunbridge Wells, United Kingdom
Have more questions about this item?