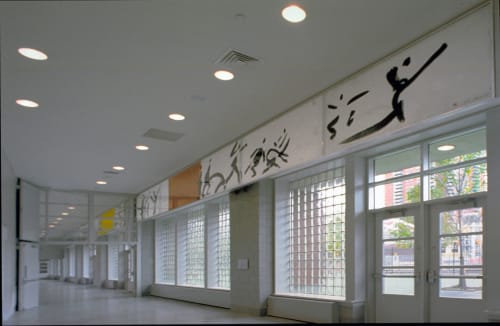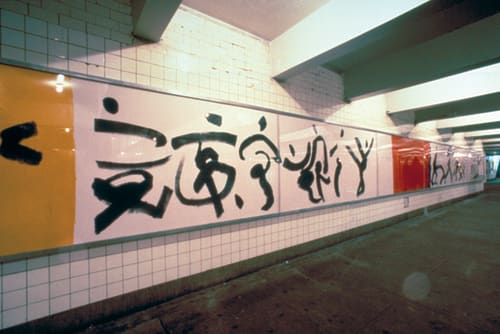 Image credit: Richard Fried -subway ; Stanley Lichens-school lobby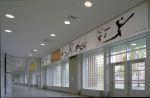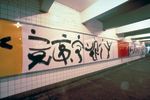 +7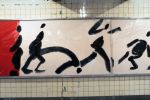 Parallel Motion, 96- ft long subway wall mural installed in school lobby
Permanently installed in lobby of P.S./I.S. 89, Battery Park City, NY
1998
Installed at 14th St./8th Ave., Subway Station, New York City, NY
1989-1995
The idea of how we move through a space is of particular interest to me. In my 96 foot long Manhattan subway mural, Parallel Motion, I tried to capture the energy of moving bodies rushing through the subway corridor by using calligraphic brushstrokes derived from my study of Chinese calligraphy. The mural was designed in twelve modular panels to fit the horizontal dimension of the corridor wall. Blocks of primary colors link the mural spatially in the same way that subway cars are interlocked with each other. Due to the large scale of the piece, people are not able to take in the totality of the mural at one time. Rather, they are compelled to interact with the calligraphic figures which parallel their own movement as they walk alongside the mural.
​
"The subway is really like public theatre where everyone from commuters, to musicians, entertainers and vendors clash in a whirlwind of expression and motion."
​
Materials:
12 panels acrylic on hemp paper, 4 feet x 96 feet
​
Commissioned by:
Winner of Metropolitan Transportation Authority's NYC Arts for Transit Creative Stations Competition, 1989
Restored and installed by Battery Park City Authority, 1998
Have more questions about this item?