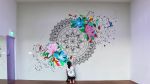 +2

Mandala + Modern Florals Wall Mural
Featured In Boon Lay Way - Big Box, Singapore, Singapore
Client: Fit Eleven
Role: Art Direction, Illustration, Mural
Fit Eleven prides itself with its innovative yoga + fitness fusion classes, vibrant and upbeat culture. However, the original space: both physical and online presence were monochromatic and they were looking for a makeover!
We breathed new life into the space with a mandala meets modern florals mash-up, coupled with a bright colour palette. It was able to uplift the space, creating a timeless yet modern cornerstone for the brand. Now, people not only go there for stellar yoga and fitness classes, but to soak up visuals as well!
Returns accepted within 14 days
See details
Item
Mandala + Modern Florals Wall Mural
Have more questions about this item?