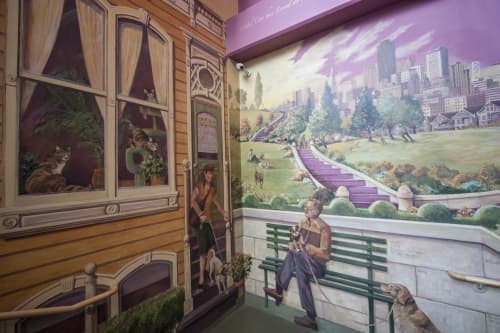 Tribute Mural to Honor Pets
Featured In San Francisco SPCA Veterinary Hospital Pacific Heights, San Francisco, CA
There is a grand staircase leading up to the adoption center that holds our Pets Mural. One wall featured cats seen in a window of a typical Victorian House and adjoining longer wall featured dogs at play in the nearby park with a bench and wall below. Both the siding on the house and the wall of the green space gave us opportunities to hand paint names of departed pets. A client could find their pet's name within the art work as a way to memorialize their life.
Formerly known as Pets Unlimited, this pet adoption center and veterinary clinic commissioned this mural in 2007 to serve not only as a testament to their location in and service to the Pacific Heights community, but also as a way that clients could honor their departed pets and contribute to the adoption center.
Returns accepted within 14 days
Trade Members enjoy Free returns within 30 days regardless of the Creator's return policy.
Learn more
Item
Tribute Mural to Honor Pets
Have more questions about this item?