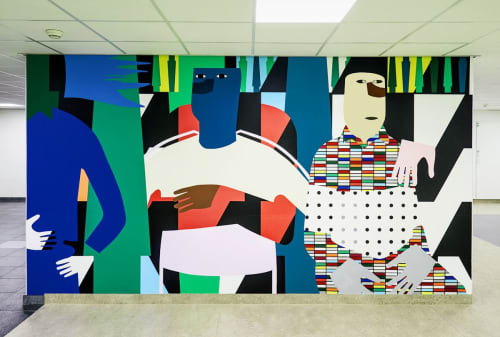 Image credit: Photography: John Voermans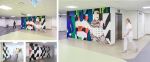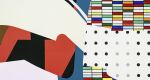 Featured In Rijnstate Zevenaar, Zevenaar, Netherlands
Rijnstate Zevenaar has been enriched by as many as three wall paintings at one stroke. You will find this 'one-two-three', created by Rotterdam-based artist Anuli Croon, on the ground floor, in the direction of the lifts. It begins at the outpatients' blood test department, where we see the start of a pattern. At the stairwell this structure even fills the entire wall, only to return as the base in a colourful final piece, at the side of the lifts – a composition of human figures, hands, trees and patterns.
DIY
In the human figures, made up of colourful areas, facial expressions are not filled in. Anuli Croon does this deliberately to keep interpretations as open as possible. The wall painting DIY visualizes a simplified version of reality, as in comic books or cartoons. The varied, but nonetheless balanced use of colours, from soft pink to aluminium, together with the graphic, hand-painted patterns have ensured that the wall painting now has a natural, prominent place in the building. Even the coats, scarves, jerseys and bags of passers-by belong to this scene. For a brief moment all seems to be quite orderly.
Jeroen Glas
Arnhem, 2018
DIY no.2 (three murals), 230 x 430 cm, 230 x 430 cm, 245 x 200 cm, 2018
design: Anuli Croon
realization: Studio Anuli Croon
mural: matte acrylic on wall
photography: John Voermans
commissioned by Jeroen Glas | Rijnstate Hospital Arnhem
- Rijnstate Hospital Zevenaar
Have more questions about this item?