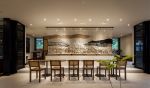 +1

Coffee Inspired Partition for Starbucks - 4200 x 1800 mm - Macrame Wall Hanging
Featured In Starbucks Reserve Dewata, Bali, Indonesia
Starbucks Dewata is the biggest Starbucks in Southeast Asia. It is their very first Coffee Sanctuary. This gorgeous partition is inspired by the lush coffee landscapes in Indonesia. Staying true to our inspiration and Starbucks as a coffee brand, we even used coffee-colored wooden beads, burlap from bean sacks and coffee-dyed rope.
Item
Coffee Inspired Partition for Starbucks - 4200 x 1800 mm
Have more questions about this item?