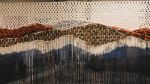 Floating Macrame Partition - 6500 x 1500 mm - Macrame Wall Hanging
Featured In Beach Boy Canggu, Bali, Indonesia
Inspired by the Batu Bolong beach near the beach club, we created this based on the client's color palette request. This piece was manually dip-dyed strand by strand, it also uses hay to give it a beach-hut texture. Unfortunately we do not have photos of the it being installed.
Item
Floating Macrame Partition - 6500 x 1500 mm
Have more questions about this item?