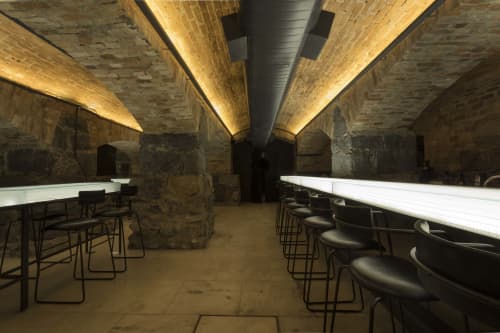 Image credit: Beto Riginik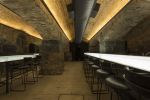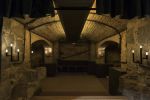 +8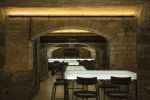 Bar dos Arcos - Lighting Design
Featured In Bar dos Arcos, República, Brazil
Arcos is a cocktail bar located in the foundations of the historic Municipal Theatre of Sao Paulo. Its main architecture feature, the vaulted arches (arcos, in Portuguese), lends the space its name. Originally the space served as part of the natural ventilation system of the theatre. However, with the introduction of air conditioning the ventilation shafts were obstructed, and the space became obsolete. In the 1980s it was refurbished to be used as an events room which was seldom used. In 2015 a public tender was issued with a view to giving the space new lease of life. Facundo Guerra and MM18 Arquitetura vision for a cocktail bar with live classical music featuring performers from the Municipal and State Orchestras, was the winning bid. Moreover, the building is protected for its architecture, historical and cultural significance by the Municipal, State and Federal Governments.
The architecture consists of a series of columns, arches and vaulted ceilings, varying in direction and ceiling heights. This unusual space, particularly for a Brazilian city that only thrived from late 1880s, creates a certain confusion for users. Therefore, it was key for the lighting to provide a bearing to the destinations. Being completely underground thus void of natural light, another aspect of the lighting design was ensuring the space felt inviting. Additionally, as a basis for listed building consent, all modifications to the space needed to be easily demountable, and made to be an obvious addition, rather than discreetly fading into the historical architecture. This naturally posed a challenge for all installations and insertions to be carefully considered for the two key spaces – the main bar and the events room.
Mock-ups were conducted on site over a three-year long project programme. Due to the lack of any external light spills, and being underground, the correct balance of light levels and colour temperatures between the various lighting effects proposed, became imperative for the success of the scheme.
In the main bar, there are two main lighting features, the backlit tables at 3000K colour temperature for a crisper feel, inspired by the Overlook Hotel bar of Kubrick's "The Shining", and the uplight to the arches at 2700K, warmed even further with the use of filters. Cocktails and food are served in translucent materials, which glow beautifully when placed on the tables.
For the events room, a lounge environment was envisaged with domestic furniture and a more intimate ambience, thus the lighting proposal changes focus from the arches to the perimeter. Again, looking at Kubrick for inspiration but this time from "Barry Lyndon" candle lit scenes. In order to achieve this intent, the lighting design team developed a reinterpretation of a wall mounted candelabra with sober orthogonal proportions. Two variations were designed with 2 and three arms, made in aluminium and powder coated in matt black. An intentionally dim light at the tip of the arms, in reference to candle light, at 2000K are dotted around the perimeter and columns.
Have more questions about this item?