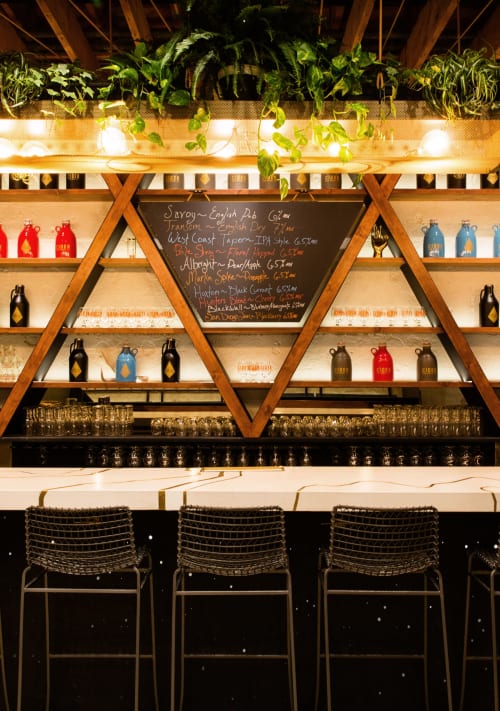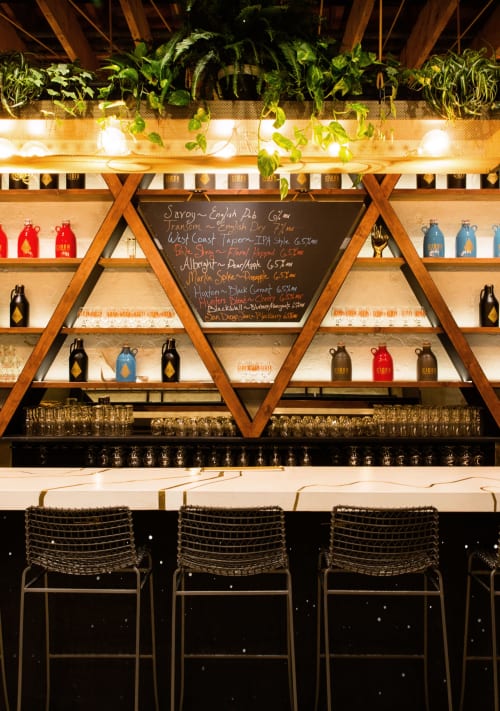 Image credit: Jennifer Seigwart


+12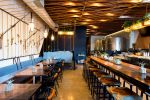 bivouac ciderworks
in
North Park
, San Diego, CA
Description
ˈbivo͞oˌak
noun. a temporary camp without tents or cover, used especially by soldiers or mountaineers
Inspired by the minimalist explorer, the active and outdoorsy owners of Bivouac Ciderworks wanted a space that would evoke the spirit of adventure with a sense of nostalgia and warmth; a homey spot for friends to gather and share stories over a tall glass of hard cider.
Like their acclaimed ciders, Bivouac's first brick-and-mortar is complex and refreshing. The bar/restaurant is nuanced with interpretations of the great outdoors including custom brass and wood light fixtures devised to double as plant shelves - as the plants mature their leaves will filter the light, creating a dappling effect reminiscent of swaying trees on a spring afternoon. Glass sconces are fashioned from re-purposed popcorn machine vacuum tubes, leather-wrapped, and lit from inside to mimic the look of a camping lantern. Waterjet constellations on steel walls illuminate the bar-die and kitchen; and on the ceiling, twinkling recessed lighting delicately mimics a starry night's sky.
A series of knotted lines run from the south wall banquette and across the ceiling to suspend overhead bar lights. Several of the exhibited knots provided the name inspiration for the ciders on Bivouac's menu. At the far end of the banquette, a 10-person swing sways in the foreground of a massive steel mountainscape affixed to the back wall.
Wrapping the north wall and front patio, brass topographic inlays on a white concrete bar offer the spark of a glowing campfire. A large pivot window along the façade, when open, enables guests to access the bar from both the interior and exterior spaces. Re-imaginings of an abstracted campfire shape are present in several of the space elements; back bar shelving, dining table legs, wood wall cladding, exterior bar-die and wood-dye patterns on furnishings all "explore" the theme in a variety of scales and materials, creating a cohesive theme throughout.