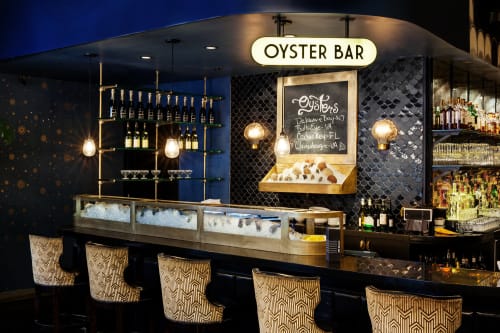 Image credit: Heidi's Bridge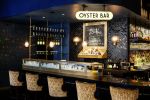 +1
Oyster Bar At The Roxy Hotel
The Roxy Hotel in TriBeCa hired us to help realize a radical transformation of their public amenity spaces within the hotel. STUDIOjamieson took several under-utilized spaces and transformed them into branded programming within the hotel. We first inserted Jack's Stir Brew Coffee into a former egress bay of the facade. We were then commissioned to create a new Oyster Bar within the existing lobby restaurant area and a new concession stand to service their basement art-house cinema.
The Oyster Bar features custom brushed brass cold display cases, vintage clam-shell lighting sconces and Moroccan fish-scales mosaic tile.
The Concession stand features a custom curved wood and glass display case to compliment the existing cinema lobby geometry. The neon cinema sign was salvaged and retrofit to serve as the new menu board. Theater style lighting was added to complete the look.
Have more questions about this item?