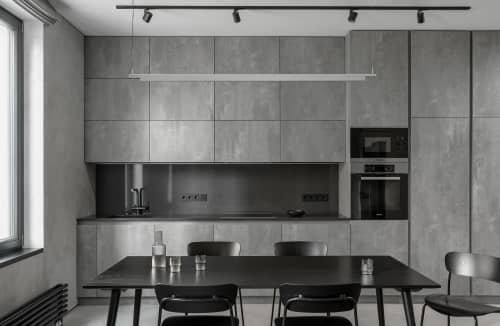 Image credit: Yevhenii Avramenko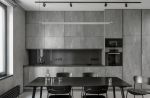 +15

Schekavitskaya is a project made in the spirit of the time with high implementation quality. This monochrome apartment has an uncluttered design that matches the lifestyle of a young family.
Apartment area of Schekavitskaya is 75 sqm. It's located in a new building near Podolskaya embankment in Kyiv. The main concept of this project is in the creation of a modern functional space with great care for details like built-in skirting boards, shady stitches between walls and ceiling, built-in mirrors and wall-mounted window sills.
The hallway of the apartment flows into the living room. Smoky grey plaster is used for all walls of this room. This move helped to avoid fragmentation of the space with a small area.
The textured kitchen fronts smoothly continue the area of the walls in plaster. As conceived, they are perceived as a complete background element of space. All kitchen appliances are built-in. This helps to maintain a minimalist view of the kitchen area. Boiler, washing machine and dryer are hidden in the large cabinets.
Boy's room has a muted gray and blue range. It's light and airy. Chalk walls are the contrasting elements of the child's room. They are visually followed by the black doors and connected by a mirror, which groups them into one composition.
Catwalk bed with pull-out drawers is a key element of the bedroom. It becomes a storage system under the window and acts as a play area.
Bed structure with a drawer at the window and a shelf unit seems to merge with the identical blue wall color, combining all these elements into a holistic composition.
Two spacious dressing rooms provide a small amount of furniture in the apartment.
Though the interior is simple in appearance, it's filled with quality furniture and lighting from the best Scandinavian Design Brands, including Menu, Normann Copenhagen, &Tradition, Northern.
The image of the apartment is calm and balanced. This feeling was created by using subdued colors and nuanced color combinations. This minimalist space in the monochrome style is an ideal fit for the rest from the oversaturated city life and its vivid images.
Have more questions about this item?