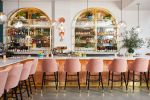 +12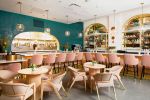 Red Herring Restaurant - Interior Design
Featured In Red Herring, Los Angeles, CA
Situated in a new mixed-use development on a bustling street in Downtown Los
Angeles , Red Herring restaurant and bar is timeless, energized, and bathed in a
California attitude. Downtown Los Angeles is rich with history, and our inspiration for
Red Herring was pulled from the details we saw all around us. The splendor of color, Art
Deco geometry, soft curves, and splashes of flora and fauna whimsy, such as the
custom Mike Willcox mural that stands tall in the restaurant's dining room, make this
space a design destination.
The bar and lounge's sumptuous palette of blush pink, neutral tones and deep burgundy
in an array of materials and textures provide a soft and sexy atmosphere. Soft and
comfortable bar chairs, along with a serpentine chaise and barrel chairs, make you
never want to leave.
Have more questions about this item?