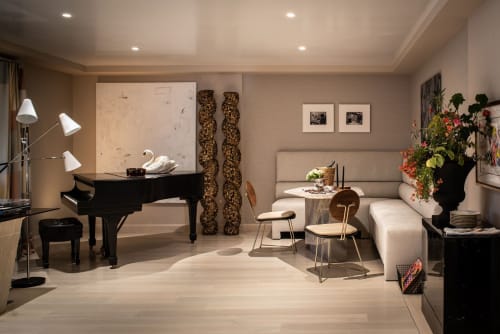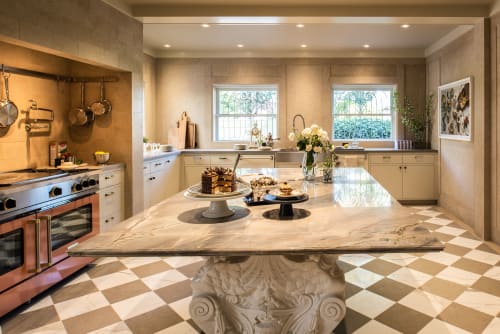 Image credit: Drew Kelly Photography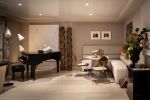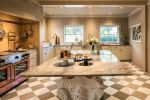 +8
Item Details
Architect David Armour and interior designer Jaimie Belew are proud to present the Main Catering Kitchen and Service Lounge at the 2019 SanFrancisco Decorator Showcase. Inspired by Marie Antoinette's French Beaux-Arts estate, the spaces pay homage to Le Petit Trianon's classic architecture yet showcase contemporary elements selected to suit the entertainment needs of today's homeowner. The design duo reconfigured the kitchen floor plan to create symmetry and grace, while organizing the appliances and workstations into functional groups for efficient traffic. The kitchen's west wall features an elegantly appointed new cooking station, with its range as the focal point, opposite a new doorway created in the east wall to open it to the new Service Lounge.
An overall palette of salmon, pistachio, and cream butter bean adds a modern twist to the kitchen's historic character. The pink-tangerine range gleams beneath its limestone hood, in contrast to the softness of the painted cabinets with their walnut and nickel hardware. Custom-matched to the casework, the refrigerators create a seamless blend. Stone features include all-natural limestone wall cladding with recessed panels and sage-toned countertops by Da Vinci Marble. Adding a historic note to the room is an elegant table-style prep island featuring a Michelangelo quartzite top in rose, cream, sage, lavender, and charcoaled-grey and wide, pedestal bases in hand-carved marble with classical motifs (Da Vinci Marble). The adjoining Butler's Pantry is outfitted with areas for baking prep, dish storage and wine refrigeration and dumbwaiter service to upper floors. A cubist-style light fixture adds a final modern twist.
Service Lounge
Late-night guests from throughout the house find their way to the Service Lounge to mingle with the chef and crew for the after party. Drinks are stirred, platters of late-night snacks set out, and a jam session starts its crescendo around the stately grand piano. This room was created by combining two smaller, adjacent rooms. One side of the room features an art deco inspired banquette, ideal for lounging and nibbling from a tray on its custom quartzite table. On the other side, a chef's desk—used for sorting recipes earlier in the night—is now set with barware and glasses. A grand piano stands gracefully in another corner. The hardwood floors in a lacquered, bone-colored finish set off the shellacked-vanilla ceiling. Walls painted in a soft, rosy peach create the ultimate setting for a fabulous evening.
The Powder Room
Across from the Service Lounge, the ground floor Powder Room offers guests a pleasant space to freshen up. Its outer vestibule is adorned in hand-painted wallpaper depicting delicate glassware in classic mauve tones and is lit by a modern cubist-style fixture. Inside, the walls are clad in charcoal grey mirror to create an always welcome, flattering light. The water closet area has been dressed in painted horizontal panels of sunset tones, setting off decorative hand-painted scenes of Versailles. A utilitarian cart serves as a vanity, featuring a luminescent glass-bowl sink in complementing colors and a Cristallo Pink Quartzite top under the sink.