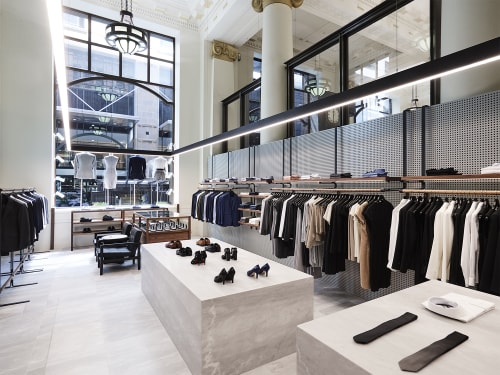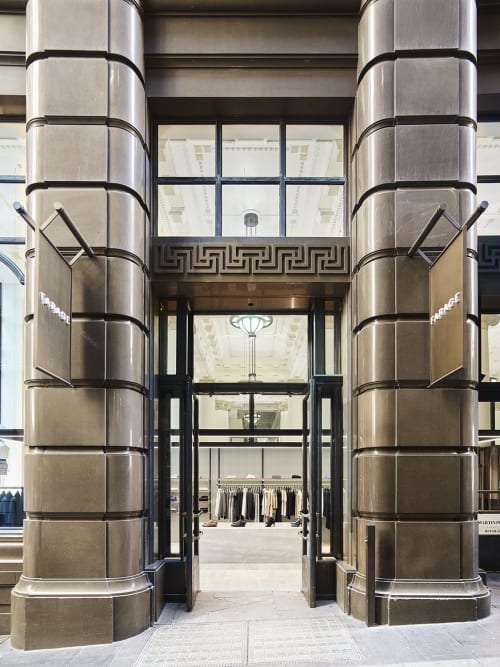 Image credit: Anson Smart
Context & Credits
Item
Farage Sydney Flagship


+5

Item Details
Taking up occupancy in a newly converted bank in Sydney's CBD, Farage Australia's new flagship store sits quietly and sensitively within its heritage framework.
Principle to Greg Natale's concept was that existing space must remain the hero.
Sympathetic to its surroundings, the interior employs a sharp palette of greys offset with bespoke walnut joinery and racking. A grid of arctic grey marble floor tiles is given weight by the monolithic stone plinths pushing upward as merchandising platforms.
Lighting the space was given precedence early on in the creative development with the notion of a contemporary technologically advanced installation floating overhead – framing the existing ornate lights and the impressive heritage ceiling.
Throughout, bronze details take their cue from the existing, soaring bronze doors and all racking and shelving was designed custom by Greg Natale Design to complement the architectural character of the building.