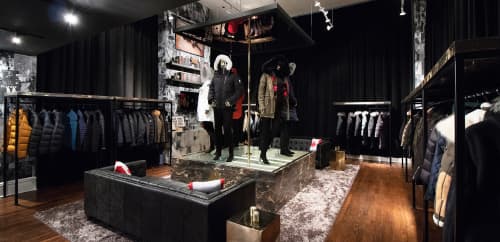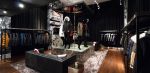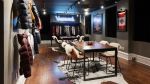 Moose Knuckles Showroom - Interior Design
Featured In New York, New York, NY
No doubt our most x-rated project to date - Moose Knuckles brought us on to design their first New York City showroom and office space, which overlooks Bryant Park. With the brand's premium price point, it was important to create a luxe, but also fun and daring home for them. Our goal was to convey the brand's trademark sense of wildness, candidness and subversiveness within every inch of the space. To start with, guests are greeted with an Instagram-worthy focal point at reception to signal that they have entered somewhere unique and special.
Formal meeting tables are surrounded by leather chairs draped in plush lambs wool throws and bold and suggestive custom artwork by pop artist Fucci. At the center of the showroom stands a giant stripper platform composed of marble and glass, complete with a brass pole, which serves as a commanding focal point and display of the latest styles on gold mannequins. Flanking the platform are plush, black leather Chesterfield sofas atop a luxurious shag rug, giving guests the feeling that they're in a nightclub and the party's about to start.
Have more questions about this item?