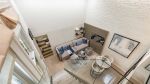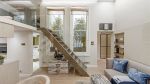 +10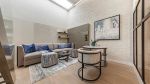 Private Residence in United Kingdom - Interior Design
The Roland Mansions, located in South Kensington, London, is a combination of unique private residences and apartments, each with its own interior style and personality, that integrate impressive buildings and share beautiful historical facades.
Under the vision of Keir Townsend Interior design, an award-winning studio in London, ALGA by Paulo Antunes took part in this UK project by providing two of their classics: the Bend Sofa and the In Out Pouf. Created with primarily ash veneer and textured fabric, these two unique ALGA by Paulo Antunes pieces provided the space with comfort and class, the perfect addition to this modern residence.
The design of this beautiful ground-floor apartment was perfectly planned and resulted in a clever use of space. Every corner was filled with the right piece to answer the needs of its residents without taking away its beauty.
Now, the apartment stands out among other properties of the Roland Mansions, for its excellent combination of colors, materials, textures, and shapes, that created a one-of-a-kind interior with a contemporary feel and some quirkiness to it, brought by the use of some out-of-the-box pieces like ALGA by Paulo Antunes' sofa and pouf.
Seat at the historical and luxurious neighbourhood of South Kensington, this apartment is the house that everyone dreams about!
Have more questions about this item?