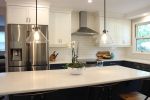 +4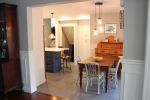 Kitchen Cabinetry - Furniture
This house was located in a beautiful neighbourhood, among other classic homes. The existing kitchen, although large, was old and falling apart. It was due for a change, and an upgrade in style and function. There is an impressive amount of storage and space in this kitchen, including a long eat-in island, and a GIANT recessed pantry that could hold a year's worth of food.
The clients knew that they liked the two tone look, and together with KMSalter Design, we decided on a white upper cabinet, with a deep blue lower. The white uppers gave a clean simple perspective, while the moody blue lowers gave the right base weight. The overall look leans toward nautical with the long wall of windows that exaggerated the open breezy feeling. But rather then play on the nautical with brass accents, we went with black to bring the kitchen back down to earth. The result is a kitchen that seems to float. Simple and clean, but grounded and dignified. The excellent styling choices made by KMSalter Design round out the look with interesting artisanal lighting, mixed with old pine antiques.
Have more questions about this item?