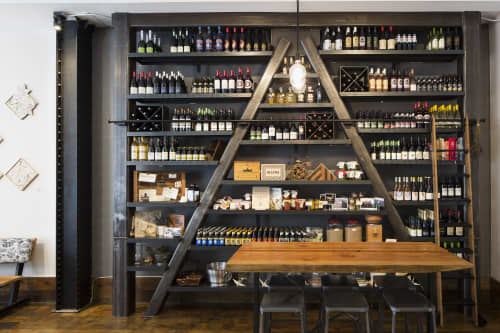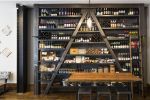 Custom Shelving - Furniture
Featured In Homage SF, San Francisco, CA
While the focus here is paying homage to local food, it's also a spot known for locally made designs. There's a distinct love for industrial modernism in this space.
The triangular shape was pre-existing as it's a seismic retrofit in the main building. We attempted to use this dead space in the room for something practical. The ladder is the crowning achievement. Also, this entire piece was 1 day from being completely scraped as I couldn't secure a welder. We finished welding as we were polishing glassware for our opening! Gi and David curated this project through many different attempts to find craftsmen to weld it up. Eventually Juan Vail, a structural steel welder, was installing the new sidewalk in front of Homage and David asked if he wanted to take on the project. He didn't hesitate and it ultimately came out beautifully!
These custom shelves are a focal point in and of themselves however, they're also an intentional complement to the original Carnigee Steel beams from 1908!
Have more questions about this item?