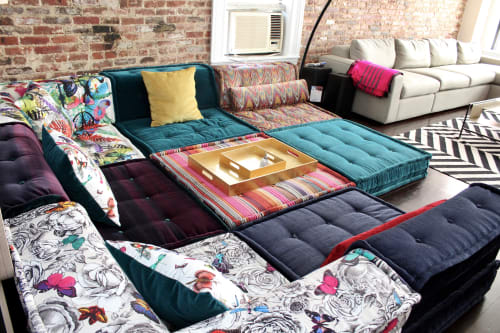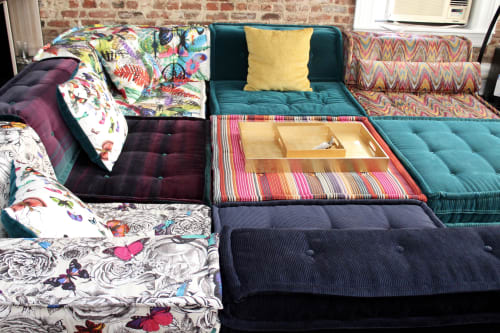 Image credit: Photographed by Lena Lalvani
Context & Credits
Item
Custom Floor Cushions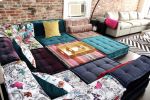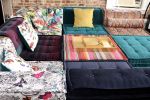 +3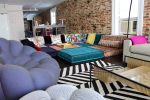 Item Details
Designed for a Bachelor who loves to entertain and spin music for his friends in his live/workspace. He wanted a space that is fun and comfortable, and who wouldn't want to stretch out and work off of his laptop on these floor cushions.
I created these cushions back in 2017. The background story of these cushions is that we originally saw them at the Roche Bobois showroom in New York, from the Mah Jong Collection. My client instantly fell in love with the look of these for his home office in Chelsea. But the lead-time for these was 8 months +. So we recreated the look with a very good tailor outside of NYC.
Ours are custom cushions and each one was made in a specific fabric. The client wanted an eclectic mix of colors, prints, and textures like the original Mah Jong Collection that uses mostly Missoni Home fabrics. Each floor cushion is a 37 3/8" x 37 3/8". There is also a straight back cushion as well a corner cushion and these are separate pieces that rest on top of the floor cushions. What's fun is that these can be placed anywhere that you want to create floor seating.
To recreate the look of the space, we used 8-floor cushions, 4 back cushions, and 2 cornerback cushions. We had shopped and selected materials from several different high-end collections: a velvet from Clarence House, a velvet from Knoll, and several prints from designer collections Missoni and Christian Lacroix.