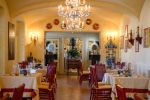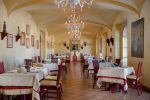 Palladio Ceramic Chandelier
Featured In La Bagnaia Golf & Spa Resort Siena, Curio Collection by Hilton, Siena, Italy
The much-celebrated fretwork 15 light chandeliers from the Palladio Collection illuminate the charming and elegant "La Voliera" dining hall, something that brings back to memory the intimate mood of an ancient Tuscan "trattoria" (a traditional restaurant). The end result is a perfectly balanced mix of tradition, beauty and elegance. With their finely designed shapes, resulting from the skilful making of pottery and the use of a bright white colour, these chandeliers perfectly fill the space created by the hall's barrel vaults, adding balance, brightness and character to the room.
Item
Palladio Ceramic Chandelier
Have more questions about this item?