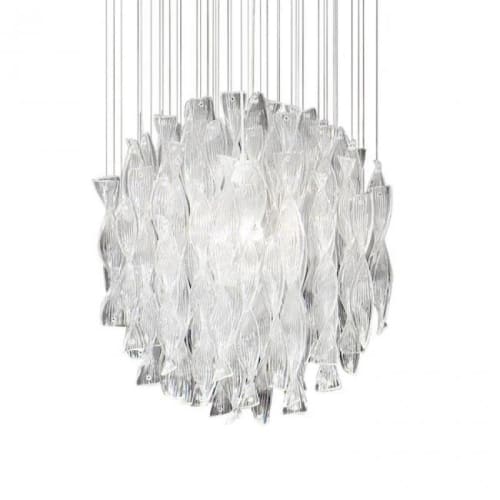 +11

AM9282 AURA - Chandeliers
Creator not accepting inquiries
This stunning fixture has ribbons of Murano glass, with a crystal flashing finish, are individually suspended to form the globe of this pendant. Glass available in white, red, tea, orange and more. In a smooth or ribbed crystal. The lampshade is made of the finest Murano glass. Fine handmade spiral parts, from which the lampshade was made. With a magical return to the sixties. With the contribution of the best master glassmakers of Murano who handcraft this twined glass. The fixture Aura collection bring into the interior the atmosphere of luxury and elegance combine traditional Italian design with Nordic asceticism.
SPECIFICATIONS:
Shape: Pendant
Size: 25" Wide x 23" Height (Custom sizes are also available)
Color: White, red, tea, ribbed crystal (Choose any color(s) you like as well at no additional cost)
Material: Stainless Steel, High quality, Murano Glass
Finish: Chrome (Custom finishes are available at no additional cost)
Lights: 2 Light Max 40w UL, 110V, E12 incandescent bulbs
Weight: 61lbs
Assembly: Each piece comes with easy to understand assembly instructions for your convenience.
Dimmer Switch Compatible: Optional
Shipping: Free Door-To-Door Shipping Worldwide
Rush Order: 3-4 Weeks; 15% added to total
Regular Lead Time: 6-8 Weeks
Warranty: 5 Years Full Coverage (includes replacement parts)
SIZE OPTIONS:
Size:Price:
18" Wide x 23" Height$1,412.00
25" Wide x 23" Height (as shown)$2,072.00
30" Wide x 28" Height$2,673.00
35" Wide x 34" Height$3,613.00
42" Wide x 40" Height$4,917.00
48" Wide x 46" Height$5,648.00
55" Wide x 52" Height$7,610.00
66" Wide x 64" Height$9,770.00
| Dimensions | Weight |
| --- | --- |
| 40H x 30W x 30D in | 61 lb |