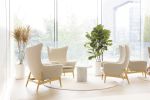 +6

Featured In Chengdu, Chengdu, China
Inquire about Comissioning a Custom piece
Furniture: Benedict
Designer: H.W. Klein
Year of Design: 1962
Benedict, our high backed lounge chair, creates great comfort due to its sheltering cover from traffic behind. Being a rather blurry egg shape, this chair was whimsically named for Eggs Benedict.
Project Description:
While so much of the car world is about engineering and action-orientated design, NIO'S culture is warm, people-centered, and bright. The idea behind these swanky clubhouses - Nio House, is that users can feel at home in whatever city they happen to be driving in or traveling through. The choice to combine aluminum and MatzForm furniture with warm and tactile materials not just gives the space a special glow but brings in warmth that is normally associated with a home. A place where you feel comfortable. A place that inspires community.
Have more questions about this item?