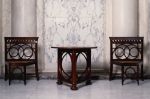 +5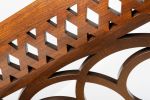 The design of this set of furniture is very characteristic both of Lutyens's delight in 'games' in the way the chairs fit flush with each other as well as with the sides of the table, and his love and manipulation of geometric shapes as evidenced by the interlocking circles forming the chair backs. When closed, the table and chairs resemble a giant, ornate music box! Whilst working very well as a set, the chairs can also be used as stand-alone consoles against a wall.
The table and chairs can be made from a range of timbers and the chairs have a cane seat. The set can also be made for use outdoors in the garden with slatted table top and seats.
Have more questions about this item?