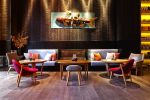 +4

One of a Kind item
Inquire about Comissioning a Custom piece
Commission time: 6-8 weeks
Item Details
Furniture: Cocktail
Designer: Studio Matz
Year of Design: 1960s
With its low back and limited seating capacity, this beautifully sculptural little chair still offers enough comfort to sit and sip at least one cocktail.
Project description:
Located in a less desirable location for an F+B outlet, The Cannery is Shanghai's first restaurant premise that comes complete with its own onsite canning facility. Taken inspiration from the fire pit, The Cannery takes its materiality and its texture from the fish smoking area that dominates the courtyard deep within the heart of the space.
From the ashen coloured floors, to the Japanese burnt wood 'shou sugi ban' walls (that references the smoking boards), crowned with the pressed copper tile ceiling, The Cannery with its fire'y composition, creates a dramatic environment that is further distorted through the use of ribbed glass and chrome reflector bulbs.
Counterpointing the warmth of the lounge interior, the bar is dominated by a large cruciform fixture, finished in 'greened weathered copper' decorated with 'found' objects; from a portal window of a sunken shipwreck to tax ledgers from the 1920s- the overall composition pays homage to the food, the stories and the characters of the west coast of Canada.
completed winter 2016