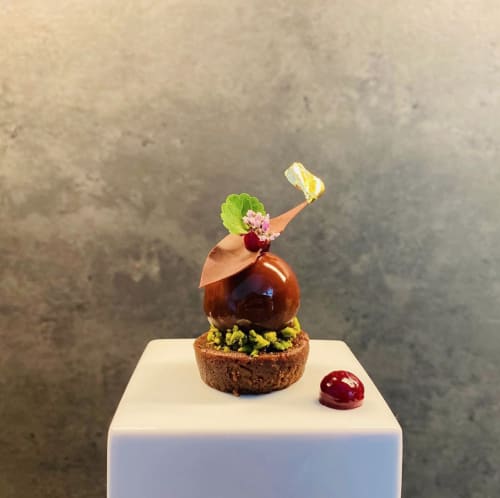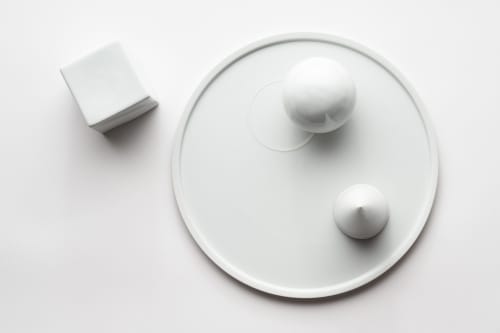 Image credit: Hotel Bareiss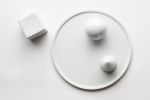 +3

B2B + B2C. Price per piece. Transport and VAT not included. Minimum order quantity 6 pc. Items produced on request at Kahla Germany.
Custom options available, ask the creator for customization.
Creation time: 4-6 weeks
Item Details
VOLUMES Cube
Material: porcelain
Colour: white, glazed
Size: 7,6 x 7,6 x 7,6 cm / 3 x 3 x 3 inch.
Weight: 300 g
Packaging Unit: 6 Pcs.
This product is part of VOLUMES collection, that contains 5 items. Price list and more info available. Just send a request though Wescover to receive it.
The art of plating
Volumes is a series of porcelain elements that allows the chef to play with the layout of the plate. The five building pieces turn the plate into a landscape in which ingredients are highlighted or draped. It's like a stage, with the chef as a rock star. Excellently depicted here by three Michelin star chef Stefan Leitner of Hotel Bareiss. He was patissier of the year 2017. This collection is designed exclusively for Kahla Porcelain in Germany.
Added value
Because it is a stand-alone line, it can add value to different sets of services. The variety in volume invites you to play with dishes – like building blocks for the professional chef. The elements are complementary. Multiple elements can be placed on a plate. Or a repetitive look can be created on a buffet.
Porcelain
Porcelain of the highest quality, manufactured at Kahla Germany, on request.