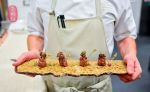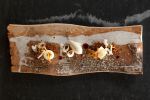 Lynn Mahon Trays - Ceramic Plates
Featured In The Restaurant at Meadowood, Saint Helena, CA
Inquire about Comissioning a Custom piece
The serving trays at The Restaurant at Meadowood in St. Helena, California, are by Lynn Mahon. Each piece is a work of art, complete with dripped glazes, brushstrokes and organic colors.
Like much of Lynn's work, they embody "wabi sabi"--an aesthetic originating in Japan that finds beauty in things that show the markings of a natural process, that are irregular and understated.
Have more questions about this item?