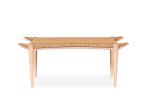 +4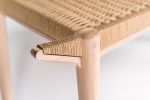 Shoreman's Bench - Benches & Ottomans
The flagship product of the Hamilton Holmes studio--The Shoreman's Bench --has been exhibited and is sold in finer showrooms in Toronto and New York City.
The bench combines luxurious artisanal handwork work with minimal contemporary design. The legs join to the rails in a 3-way joint that allows for a lightweight but strong frame, onto which the Danish paper cord is handwoven . It is produced in studio, in small numbered batches of 12.
47" long x 18" deep x 19" tall
Have more questions about this item?