+1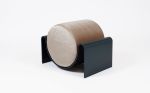 US$2,600
Our pieces are custom made, we can custom paint and we do COM at no extra charge.
Shipping: US$150 shipping in the US, ask the creator about international shipping.
Custom options available, ask the creator for customization.
Creation time: 4-6 weeks
Item Details
Asa Pingree's slinky, singular fiberglass creations are a direct reflection of the designer's penchant for clean lines and lightweight structures. The chair is made of a lightweight fiberglass composite with a molded gel coat surface that is extremely durable and suitable for extended outdoor life.
The swooping silhouette is as much about minimal living as it is about movement. The Stool has been designed for Indoor or Outdoor use and is available in a myriad of outdoor finishes or custom indoor lacquers. The cushion is made of latex foam and covered in a velvet fabric.
Materials Fiberglass / Fabric Upholstery
Dimensions 15.5" L x 22.5" W x 18" H