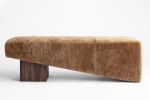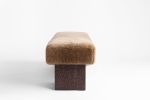 +1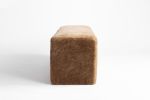 One of a Kind item
Inquire about Comissioning a Custom piece
Commission time: 12-14 weeks
Item Details
BLOCK BENCH
Dimensions: 18" H x 60" W x 18" D
Materials:
Upholstered top with Flat or Chiseled Natural Walnut (pictured), Chiseled Bleached Ash, Chiseled Oxidized Maple
Or
Upholstered top with White Oak Finishes: Bleached, Sand, Natural, Oxidized, Cerused Grey
Please note: Cuff Studio does not provide fabric or leather. This needs to be supplied by customer.
Yardage Required:
COM (fabric) Solid: 4 yards
COH/COL (leather or shearling) Solid: 80 sq. ft. (Please provide hide size as this may affect square footage required)
Made in Los Angeles and made to order.